Not many hairstyles stand the test of time and also flatter almost anyone—and the bob is definitely one of those styles. The main reason why it's so loved by many alludes to the endless ways to cut and style it. Regardless of your hair type and face shape, there is a bob out there for you that will look amazing with very little effort. To get you started on your journey to your perfect hairstyle, we've selected a collection of various bob haircuts for round faces we're sure you'll love and be anxious to recreate.
Consider every bob haircut you see on this list and take some handy notes on why they work well for your round face. Have fun!
1. Medium Shaggy Bob
Shaggy bob hairstyles for round faces will succeed in making your hairstyling routine as fuss-free as possible—which is always a good thing.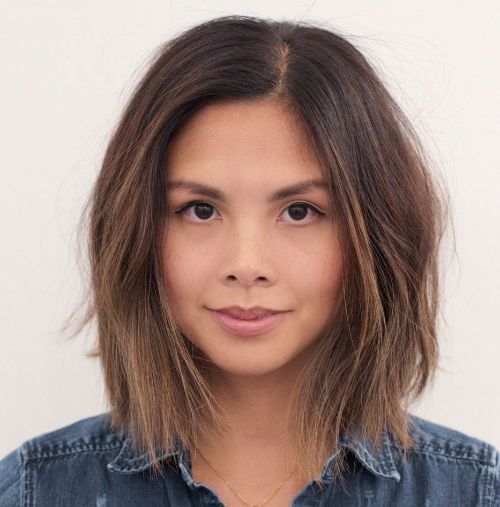 2. Red Bob with Soft Waves
You'll be sure to turn heads thanks to this bob with bangs for a round face. It's both modern and a little bit retro, meaning that it offers loads of personality and style.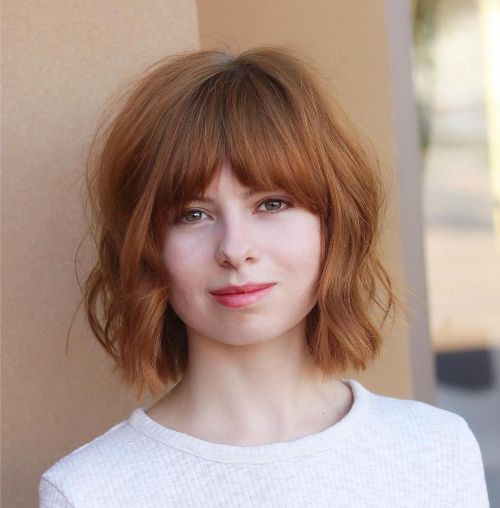 3. Blonde Messy Bob
Luckily, there are plenty of bob haircuts for fine hair and a round face to choose from, and here is one of the best ones to try.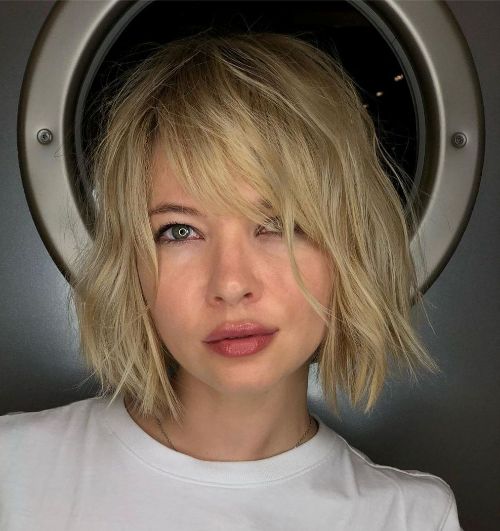 4. Long Highlighted Bob
This long, layered bob comes to life thanks to its asymmetrical shape, wispy layers, and partial highlights. Wearing it as a peek-a-boo is very rewarding for a round face.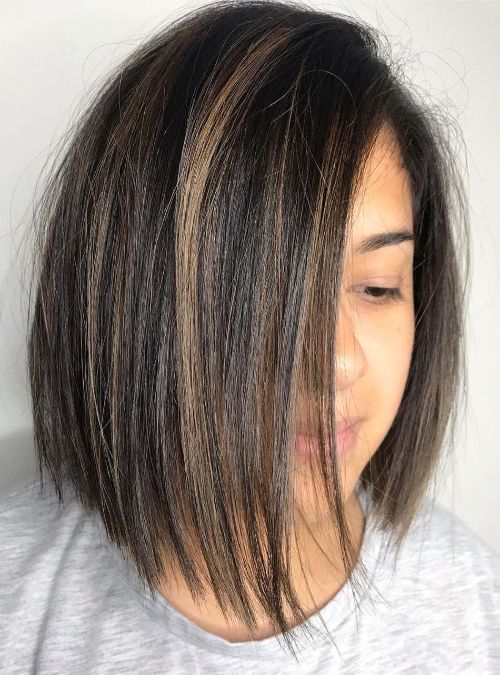 5. Centre-Parted Choppy Lob
A long bob for a round face can take on so many different variations, and the one you choose depends on your personal preference and hair type. However, trying out a balayage look with a lot of texture should definitely be on your list.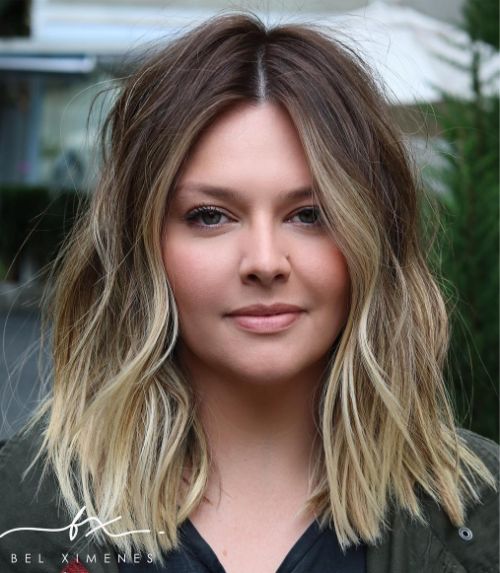 6. White Wispy Bob with Bangs
With your round face and thick hair you may think that longer lengths are more flattering, but one look at this futuristic style, and you may change your mind.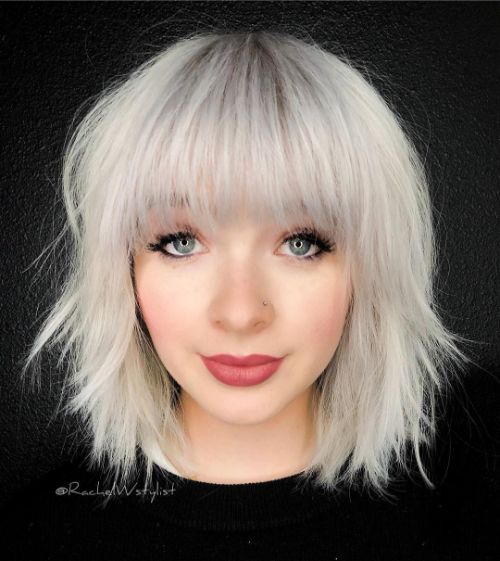 7. Short Side-Parted Bob
The classy asymmetrical bob has worked for decades as one of the most popular haircuts for women. Asymmetry slims you down and balances your round face shape.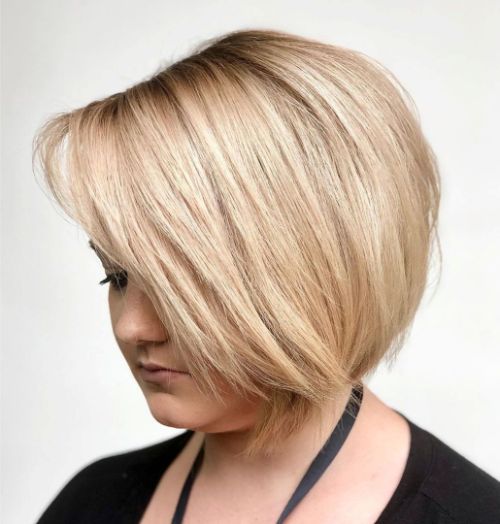 8. Disconnected Wavy Messy Bob
For a chubby face with a double chin, try a longer bob with side bangs and shattered waves. Highlighted ends will make your hairstyle lighter and less voluminous on the sides.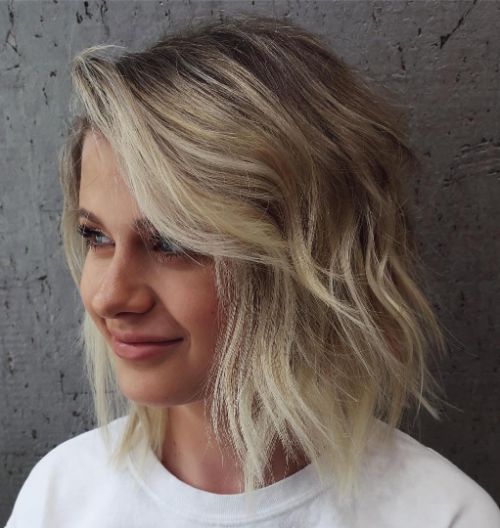 9. Blonde Mom Bob
A stacked bob is ideal for a full face, especially if the cut also features long side bangs. This neat hairstyle is too cute to pass by.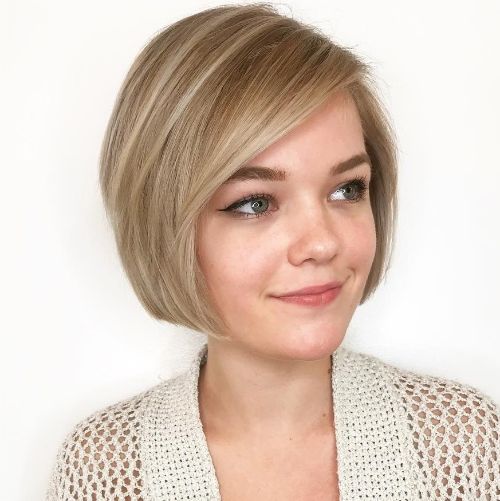 10. Black Textured Lob
Those with a round face and thin hair will be happy to know there is a bob they can try. Pay attention to the slick texture and textured ends.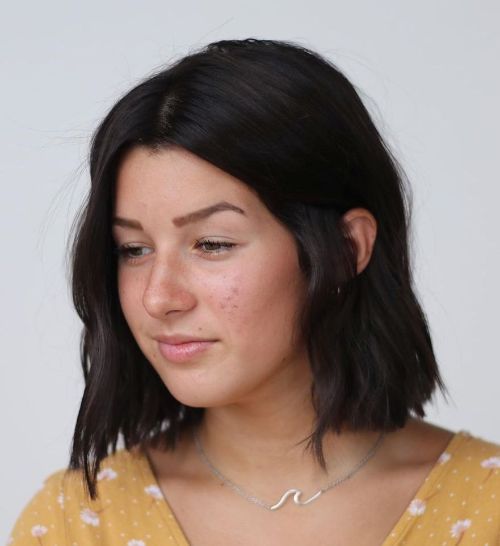 11. Short Blonde Bob with Dark Roots
One key thing to keep in mind when it comes to bob haircuts is that adding texture with layers and color keeps it from being boring.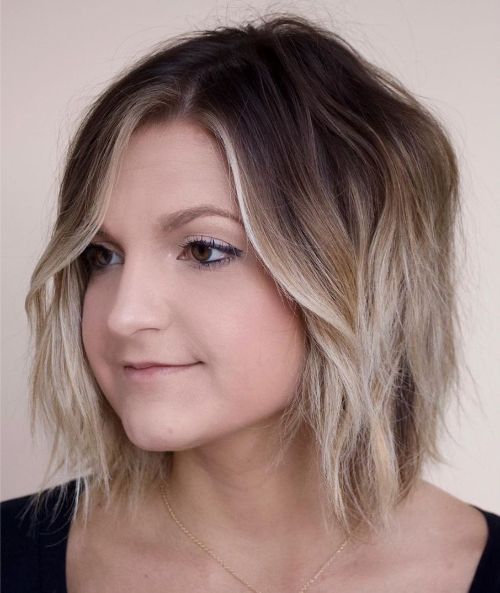 12. Strawberry Blonde Comb-Over Bob
Few haircuts come close to being as chic as the angled bob. The cut is so perfect that you really don't need to do anything extra, just let the bob speak for itself.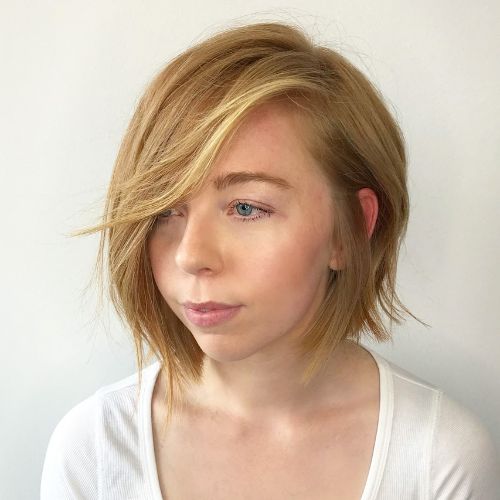 13. Messy Caramel Brown Bob
Adding messy texture to a bob not only complements a round face but also delivers that bedhead look so many women crave.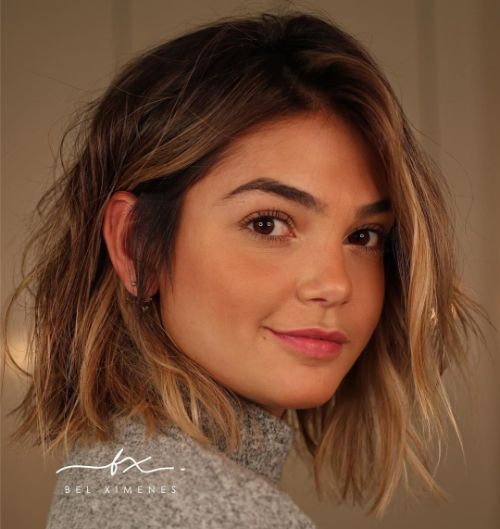 14. Black Choppy Bob
Thin hair can sometimes have trouble maintaining texture, but the key to pulling it off is to inject the texture into your hair – with razored layers like in this bob, for instance. But don't overdo it.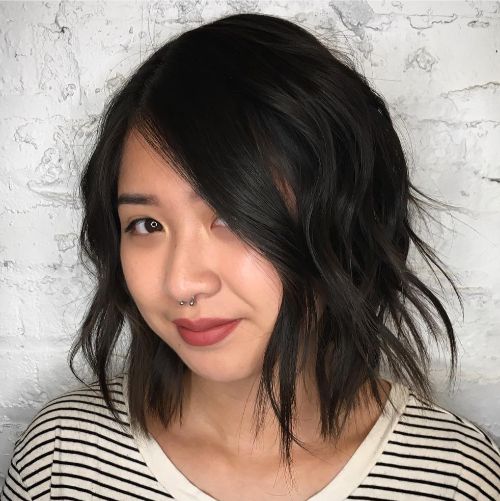 15. Choppy Frizzy Bob
Having a round or plumpy face doesn't mean that short hair should be off-limits, actually, many bob haircuts should be at the top of your list…and here's a perfect example!
16. Uneven Comb-Over Bob
An asymmetrical choppy bob suits a round face because it distracts from the excessive width of your face and adds height, balancing the length-to-width ratio.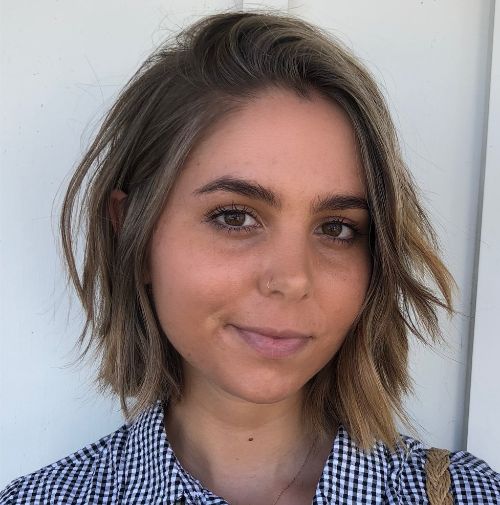 17. A-Line Bob for Thin Hair
A short bob for a round face should always work with your face shape and not against it.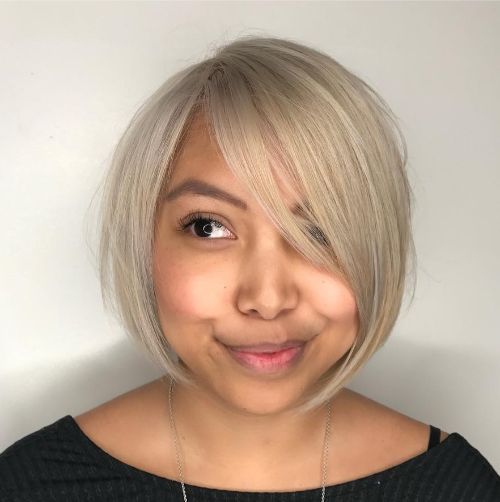 18. Wavy Bob Shag
Let's be honest, in this day and age we want to be sure our new hairstyle will look good in pictures—and this one certainly will.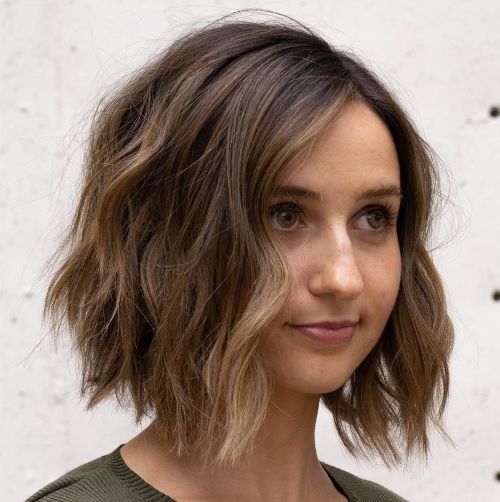 19. Black Sliced Comb-Over Bob
Cute is the word that instantly comes to mind when you see such an adorable bob haircut that is a blessing to a round face.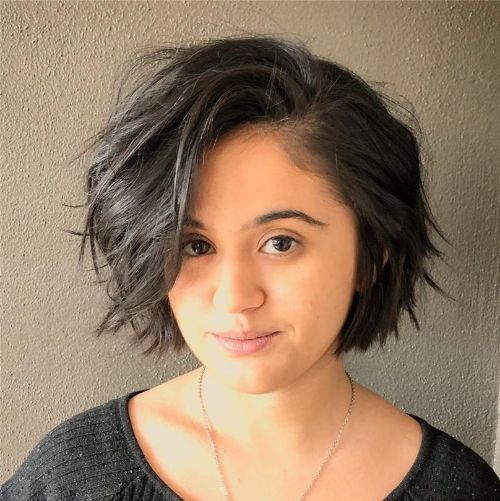 20. Shaggy White Bob
Sometimes understated looks can be the most flattering. This one stands out but doesn't scream.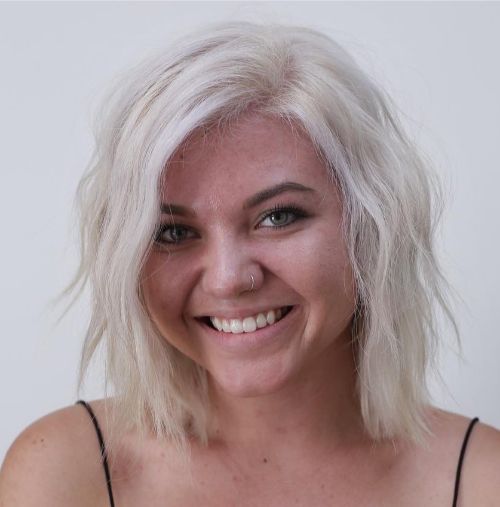 21. Sleek Chocolate Bob
You can see true precision in a haircut when it is impeccably straight and sleek, just admire how perfect this blunt bob looks.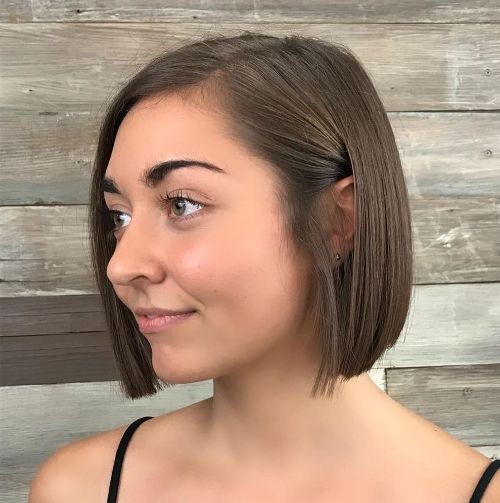 22. Asymmetrical Choppy Lob
Use your thick hair to your advantage and give this special bob a try. A benefit of having thicker hair is that it responds to additional texture very well.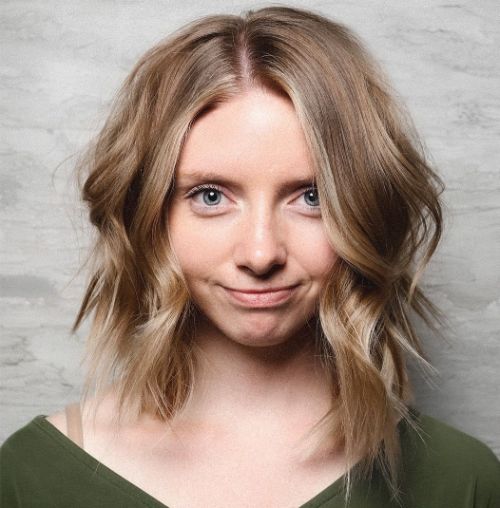 23. Shaggy Bob with Bangs
Playing with hair color and texture is an easy way to amp up your bob haircut and take it from drab to fab in a flash!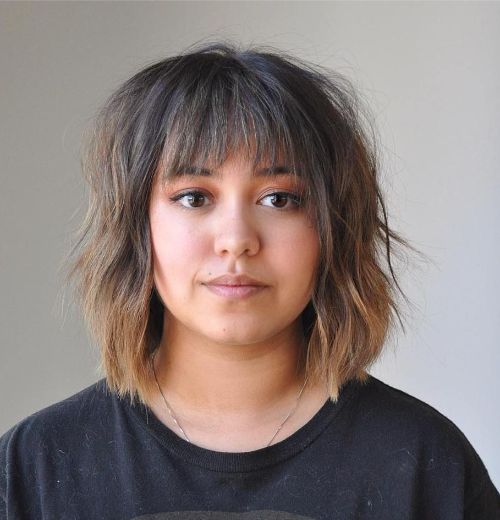 24. Wavy Bob with a Middle Part
An inverted bob with a middle part slims down and elongates the round face because the face-framing pieces are the longest and cover the chubby cheeks.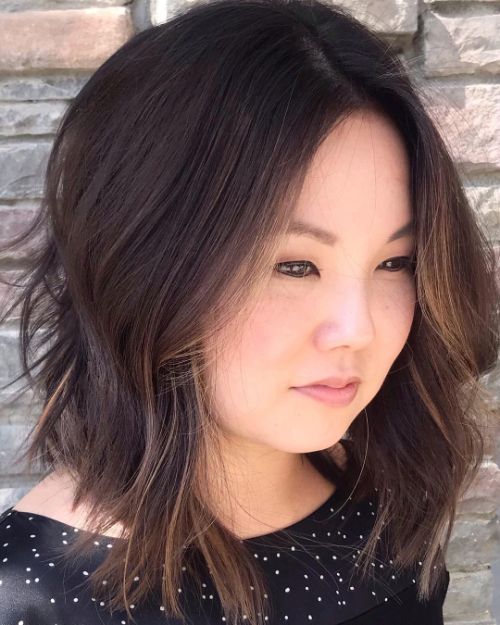 25. Layered Bob with Thick Bangs
You can also try short face-framing layers and long straight bangs. Surprisingly enough, they also work for a round face.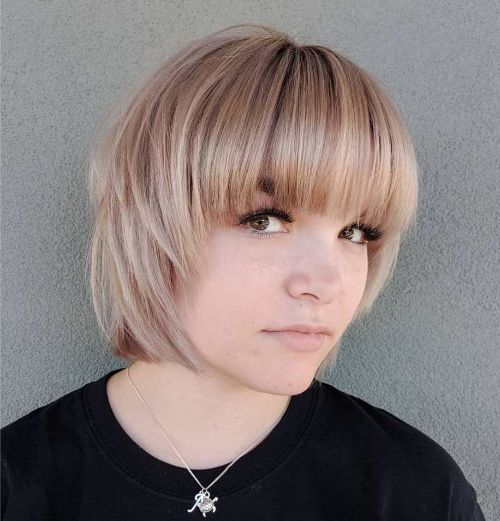 26. Dark Blonde Messy Lob
Deciding to try a long bob is a very good choice because you get to experiment with a cute haircut without sacrificing too many inches.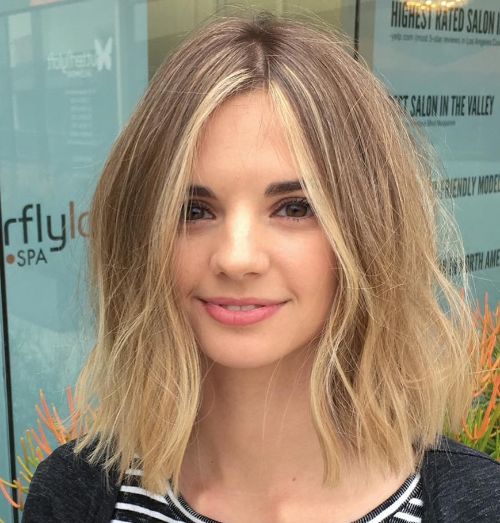 27. Brown Curly Bob
Say goodbye to the thought that those with naturally curly hair can't rock a bob. Check out the proof that they can right here.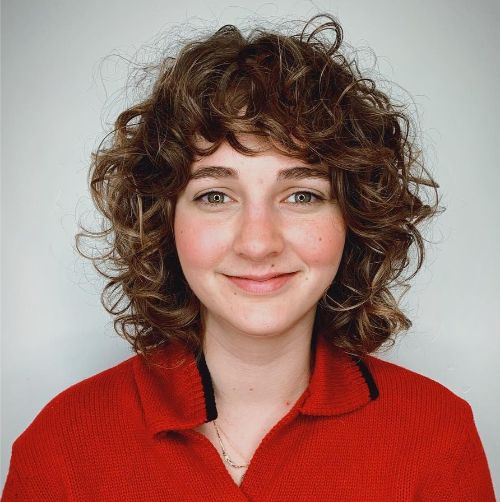 28. Asymmetric Red and Pink Bob
For all you ladies out there who use an edgy, funky haircut to express your personality, it doesn't get any better than a colorful asymmetrical bob.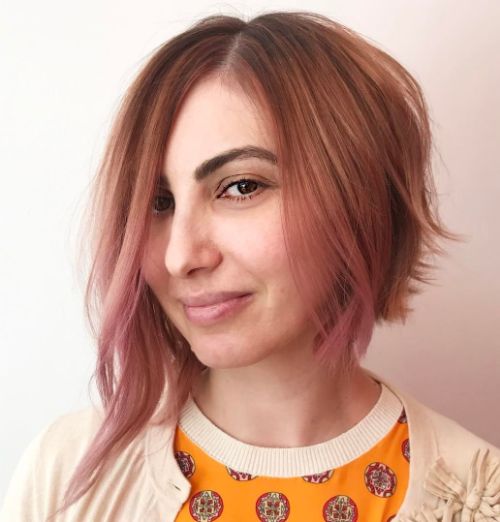 29. Wavy Peek-a-Boo Bob
Once again, here is a great example of why a side part is a blessing for a round face. Just look at how it improves the proportions of the face.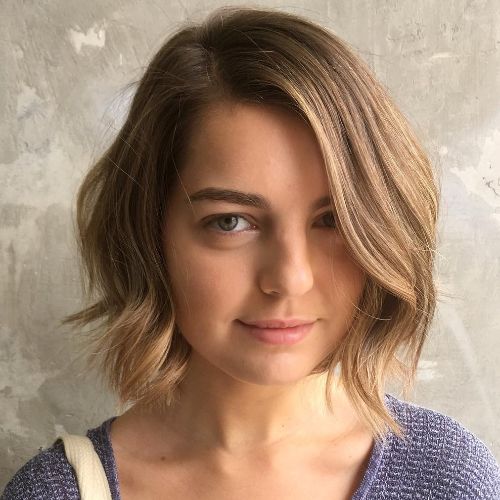 30. Asymmetrical A-line Bob
Channel your inner supermodel with a bob haircut that is guaranteed to put you at the forefront of any activity.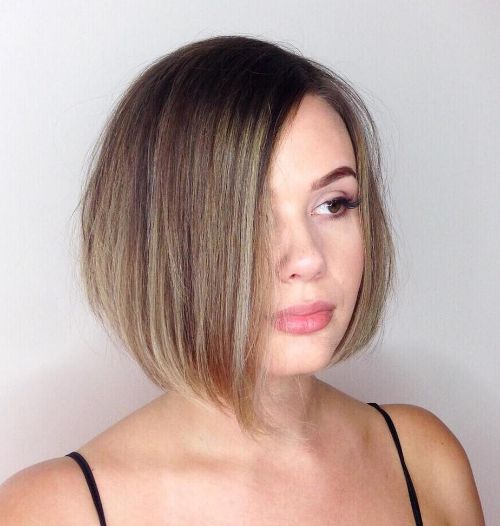 31. Black Bob with Wispy Bangs
Sometimes you want to soften a bold haircut or hair color by pairing it with a delicate element, which is what the wispy bangs provide here.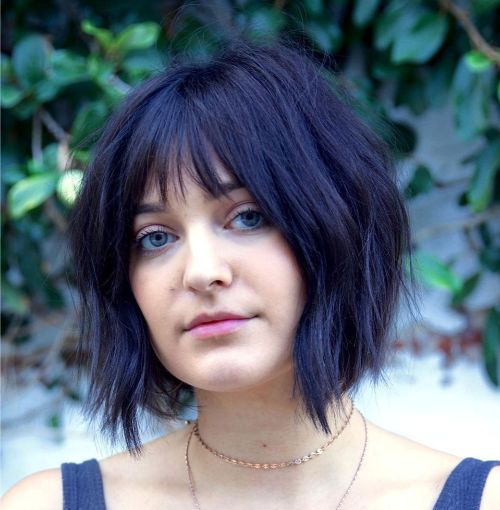 32. Side-Parted Messy Lob
A little bit of tousle and diagonal lines can revamp your look and upgrade an outgrown bob you may be getting bored with.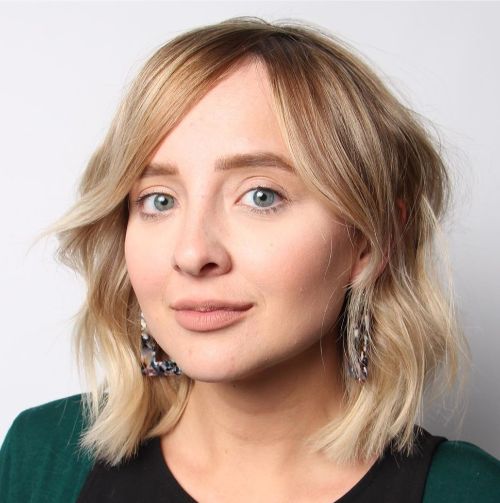 33. Crisp Shaggy Blonde Lob
It has thickness, texture and a whole lot of attitude. You honestly don't need any other reasons to give it a try at your next hair appointment.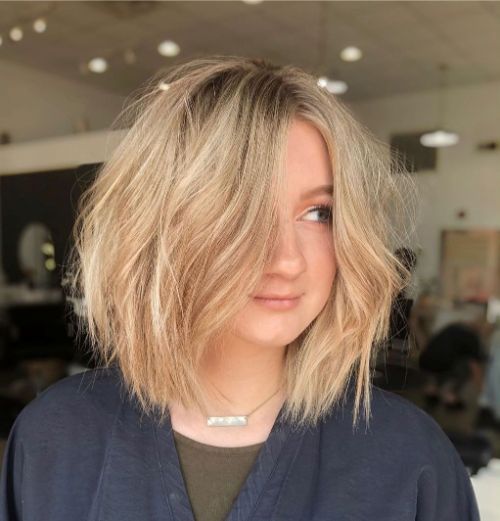 34. Sleek Red Lob with Bangs
The hair color is rich and the styling is sleek and sophisticated, not to mention it's great for a round face.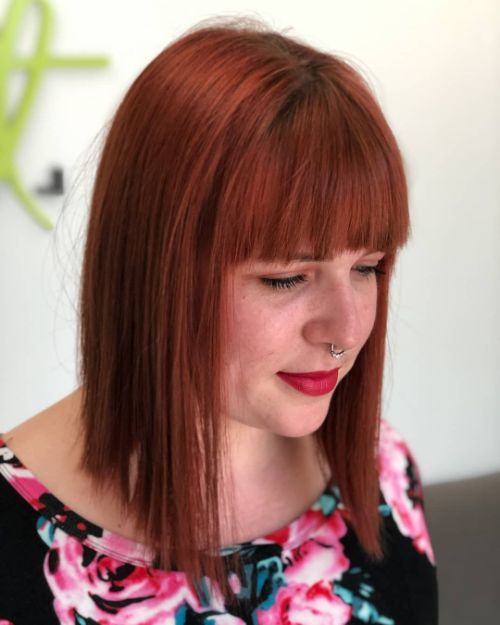 35. Short Razored Bob
Yet another example of how a new hair color can literally transform a haircut and make it a head-turner.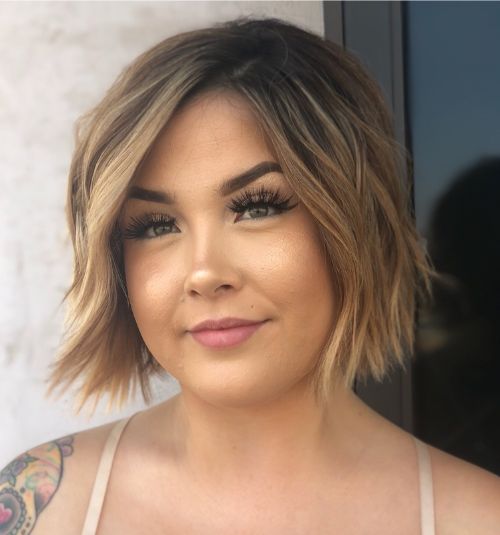 36. Short Bob with Curtain Bangs
Think of these bangs as curtains for your face because they rise in the centre and fan outward, meaning that they won't add bulk to your round face.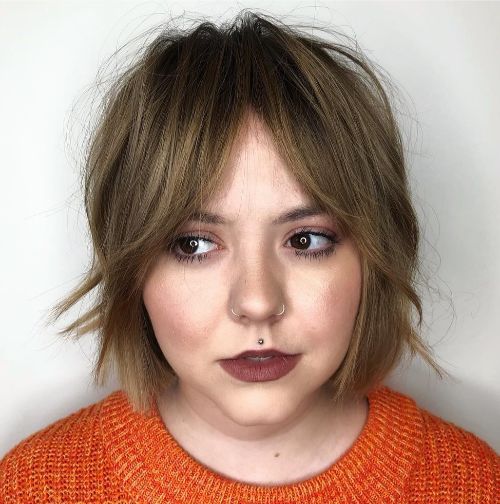 37. Wispy Messy Bob
It's very soft and feminine, allowing you to take it from the office to a night out with ease.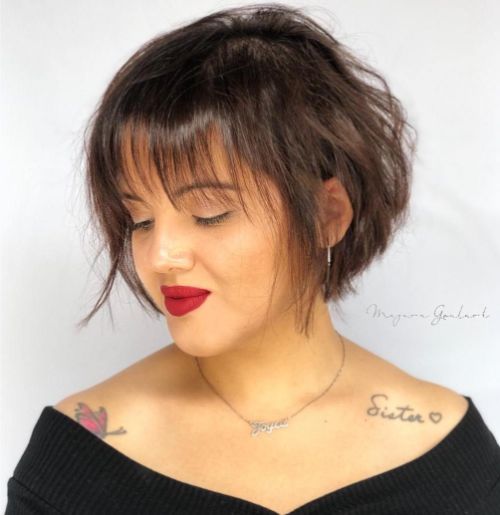 38. Long Angled Bob
A bob in a longer length is an opportunity for you to showcase how playing with angles can benefit a round face.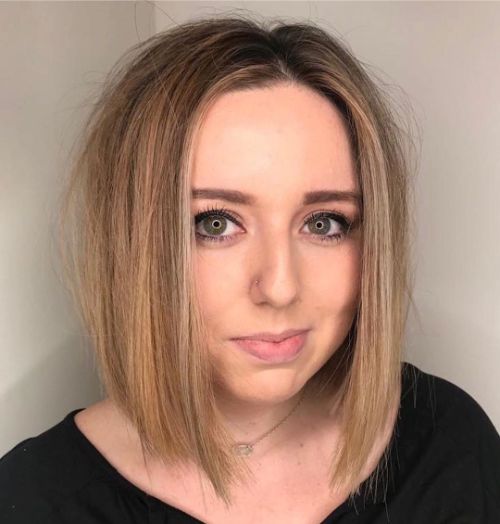 39. Wavy Blonde Lob
Add as many waves as you want to this fun, flirty bob that practically begs to be touched.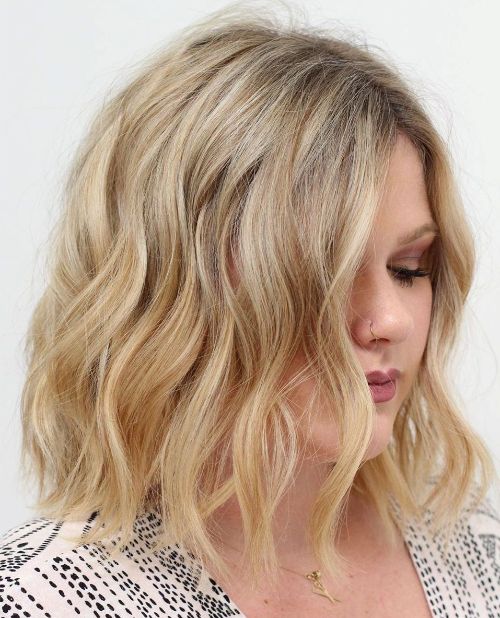 40. Asymmetrical Angled Auburn Bob
The deep side part, the rich auburn color, and the perfectly angled cut with extreme asymmetry make this bob the absolute show-stopper.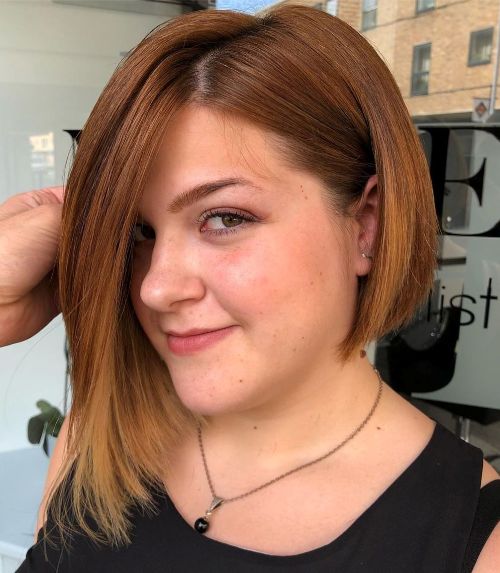 The great possibilities of bob haircuts for round faces are right at your fingertips. All you need is a little research to find the perfect style for you. Additionally, remember that a haircut also has a way of invoking a new sense of confidence, so take yourself out of your comfort zone and try something totally new.